Evening all.
I am new to this community, but not to dEUS; I have followed the boys across many borders, through many smoky bars and over quagmire festival fields since WCS made it's debut.
I worried that moving to the Big Apple, the European bands I hold so dear wouldn't venture across the Atlantic and I had conceded that as much as schedules and cheap airline companies will allow, if Mohammed won't go to the mountain……
But Thursday night quelled my fears and I thought I would share it with you good people.
How were they?
They were TREMENDOUS!
Of course they were, you didn't think I was going to come here and say the contrary did you??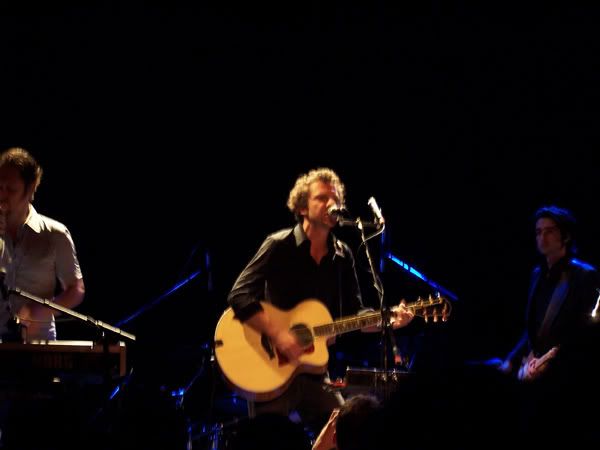 I knew it was going to be a good night as soon as the substantial bouncer kindly wished me a good evening and I stepped down into the cosy red lit bar of this
legendary old theatre.
With plush well stocked bars on three levels, velvet drapes curtaining the modest sized stage and a intimate yet slightly decadent atmosphere and all around I could hear snippets of French, Dutch and Italian conversations making me glad that the rest of the European contingent had shown up to lend support. It was probably the second best atmosphere to see dEUS outside of an Antwerp bar or even Tom's living room.
I have to give credit to the two support bands:
Bound stems
with their interesting effects and accompanying church bells and bird song. The place was only beginning to fill up when they were finishing so they probably didn't get the attention they deserved. But during the second act: Eastern conference Champions
Eastern Conference Champions
set you could see people's jaws dropping, mine included and hear a number of, "Who are these guys? Shit, they are really good!" The trio really rocked life into the place and gave it their all to the point when the guitarist got a bit over enthusiastic with his playing and,
Ping!
went the guitar string,
Slice!
went his finger,
Ouch!
said I. Still it didn't hinder his playing. Their music is raw, forceful, sweet, cheeky, unreserved and catchy enough to get you spilling your pint having a groove, basically everything you want from a new band. I highly recommend a night out to see them if they come to a town near you.
Then they were over all too quickly and it was time for the boys to coolly troop on and straight into the
smooooth,
extended bass intro of Pocket revolution.
Setlist
(from what I remember)
Pocket revolution
Stop start nature
Instant street
Fell off the floor
Sun ra
Via
Roses
What we talk about (when we talk about love)
Theme from turnpike
Serpentine
If you don't get what you want
Cold sun of circumstance
The real sugarEncore
Suds and soda:
At this point I thought the floor of the ballroom was going to give way with all the jumping and we would all end in the bar underneath. Well, maybe there are worse ways to fall off this mortal coil than whilst grooving to your favourite band.
Nothing really ends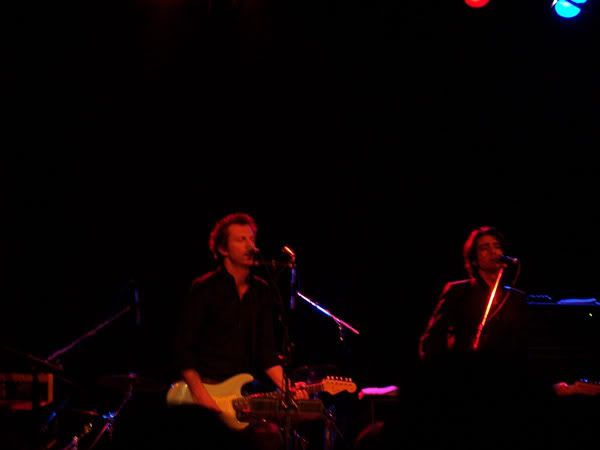 Mauro is the definitive cool cat in his sharp cut suit, (under which I couldn't help fantasise wonder if he was wearing the suspenders and stockings ala
Jumpneedle
video) He limited his stage presence to subtle nods of the head, a slight curl of the lip breaking his trance like concentration and saying, "merci beaucoup, dank u " after the songs. He never got overly excited even when some of the songs like Suds and Soda, even after all these years, had Tommy and Klaas jumping like frogs, he never even messed his hair.
The guys were great, after waiting soooooo long to see them again they didn't disappoint, but still I couldn't help it; I missed Craig and most of all Danny's presence. I can't knock Alan Gevaert's playing, but let's face it, he's not Mr. Cool rocket
I guess it will take some getting used to, just as we did with Stef and Rudy's successors.
The best part: Klaas' seemingly tireless gusto when starting Theme from Turnpike, he still twirls, jumps and slams the high hat like a crazy.
My only qualm, if it can be such, is that there was little interaction with the audience and the act was very polished. I kind of miss the days of Tom adlibbing parts about "six fingered gloves" and the onstage, between member squabbles. The sound seemed tighter and the guys seemed more serious and well… more mature, but I guess time has to catch up with all of us and I'm not that cheeky teenager anymore that first fell in love with them either.
Am I the only one to miss smoking in bars and clubs? I ask this as a non-smoker, who obviously doesn't want to cark it from passive smoking and prefers her clothes to not smell like a dirty ashtray, but during concerts the atmosphere just loses something. Plus no cigarette smoke = no lovely hash smoke haze.
When Tom unconcernedly lit up, followed by Mauro and Alan and the subtle fragrance reached us, I was glad and felt some dissident attitude, as there should be with music, had been restored; a smoking ban does seem incongruous with the notion of sex, drugs, rock n roll.
Even though looking back at their solid set list, the concert felt like it had lasted only 15 minutes and then we were cast out onto the cold lower East side streets with only ringing in the ears and a warm memory to guide us home.
For the time being my appetite has been sated…..for the time being.
Anyone know of economy airlines for NY to St Petersburg?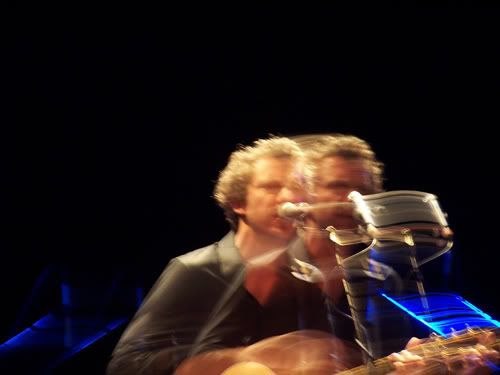 Tommy Tommy Tommy!!
I know, I will not win any prizes for photojournalism, but I think these came out kind of interestinglike.
If anyone else attended the concert? I would love to read your thoughts.
Entry cross posted to my journal.
Current Mood: Fine....good even.
Current Music: Eastern Conference Champions - Single Sedative